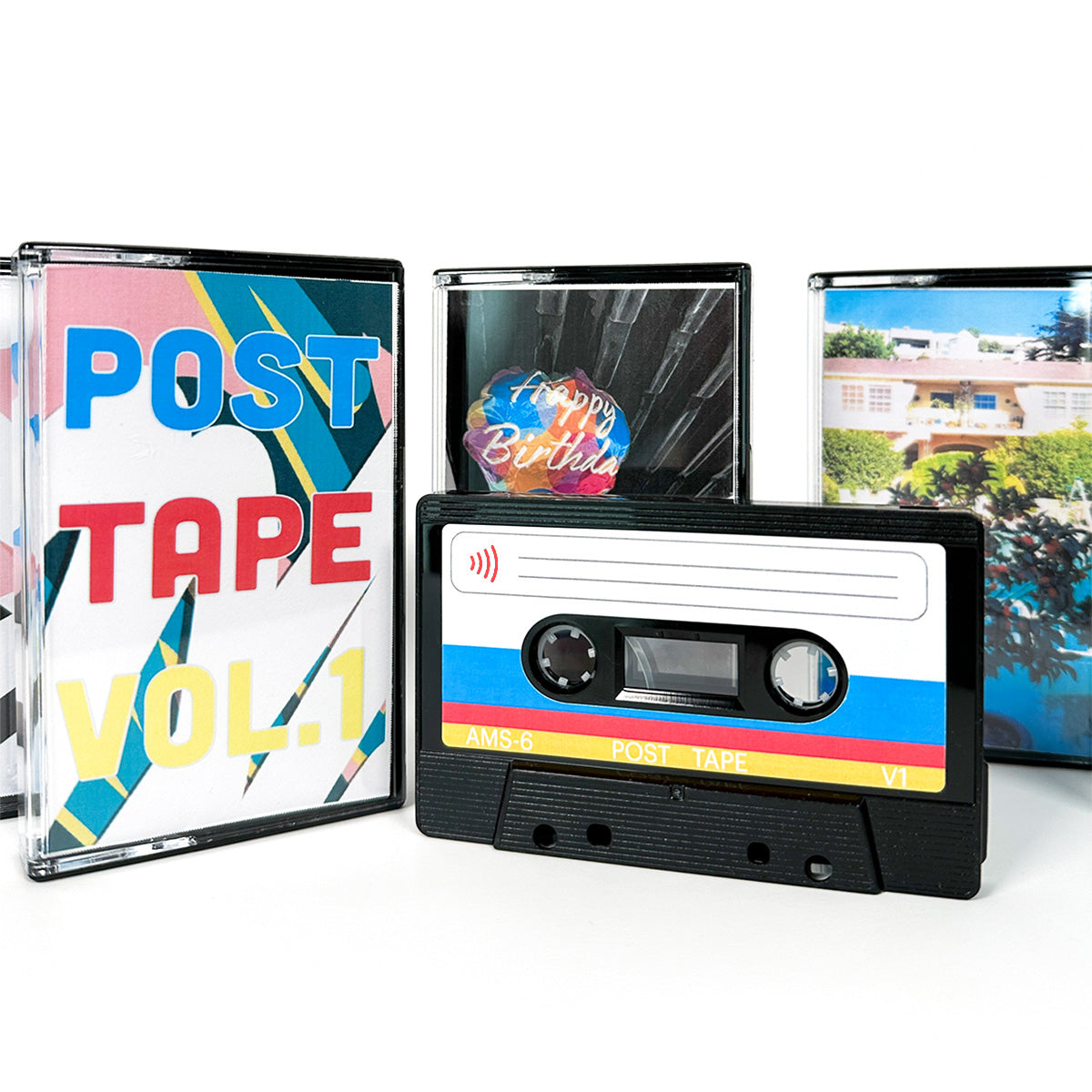 POST TAPE
The Mixtape for Streaming
Post Tape™ arrives ready to gift. We embed your playlist to the tape, you create your cover art, and then we can ship to you to customize it further, or directly to your person.
The playlist is personal again. Give a Post-Tape.
POST TAPE ™ FAQs
How does it work?

Magic. Just kidding, but also, kind of!

NFC technology is likely already in your phone. It's what we use when we pay using our phones at grocery stores.

Using actual cassettes, we embed an NFC chip and encode your playlist to the chip.

Simply hover your phone over the NFC symbol (the sideways wifi type symbol) and tap the Spotify link when it pops up. Voila!

On iPhones your NFC reader is at the top edge of the phone, on the back right behind the front cameras and ear piece. On Android phones it's often in the middle of the phone.

Save the playlist to your library, and that's it!
How do I make one?

Making a POST TAPE™ is easy, and fun (if you ask us)

1. Go to Spotify and click the three dots (...) then select the 'SHARE' option, and then 'COPY LINK'.

2. Paste this link to the 'Add Playlist Link Here' field

3. Click the 'ADD TO CART' button, and we'll put it all together and send it to you to design and decorate just like a true mixtape

* Want to create cover art from your photos or one from our curated collection? Click here to create a custom insert for your Post Tape™!*

** Sending it directly to someone as a gift? We suggest adding the custom cover option and letting us know in the notes section at checkout so we can put it together for you so they get the complete experience when opening it!**
What streaming services can I use?

With Post Tape you can use any of the major sevices (Apple, Spotify, Tidal). Just make sure you make your playlist in the same service as the recipient to ensure they can play it.

At this moment we recommend Spotify because of their culture around playlists and free version of the platform, but we love all the services! No favorites here.

*For Bulk and Wholesale orders we strongly recommend using Spotify. They're the largest service and offer a free version, so all your recipients will be able to play the playlist*

**If you want to link to something other than a streaming service (Dropbox, Bandcamp, etc) that's awesome, but by doing so you acknowledge that you are solely responsible for maintaining the content and the status of the link**
Any rules for cover art?

The editing tool makes it easy and fun to create your cover, but there's a few things to look out for to make sure we can print the best cover possible for you.

1. Please only use images you have permission to use. And nothing too explicit, please. When in doubt, err on the side of caution.

2. Blown out, overexposed images are tough to print and look terrible, so please try and use well lit, well balanced images.

If we need to we'll reach out for an alternative image, but if you keep the above in mind when designing, everything should be fine. Thanks!
Do you do events/wholesale? Can we collaborate?
Having trouble?

If you're having trouble getting your Post Tape™ to play, here are some tips:

On iPhones your NFC reader is at the top of the phone, on the backside right behind the front cameras and ear piece. On Android phones it's often in the middle of the phone.

Sometimes phones will connect instantly, sometimes it takes a moment. Just hover (about a half inch) where the reader is on your phone over the NFC symbol and it should connect. Move it around slowly to find the right spot.

Still having trouble? We test the tapes before sending them out, but we know it's life and things happen.

If for some reason it is absolutely not working please let us know right away and we'll take care of it together. Email us at hello@playposttape.com
What is your return/exchange policy?

Given the personalized nature of POST TAPE™ we don't offer returns or exchanges.

That said, of course we want you to have an incredible experience. If something arrives damaged or isn't working let us know and we'll take care of it.